BSNL promo offering 4 times free 3G data @Rs 36 per GB and reward of free 1GB data
State owned telecom giant Bharat Sanchar Nigam Limited has brought plethora of new offers for Internet users to lure  new customers as well as by matching tariff with the competitive market.
In the slew of offers, the PSU has revised  freebies on some selected data STVs and now customer may get up to four times free data as compared of existing free data. Data STV of Rs 78 offers double data from 1GB to 2GB while data STV of Rs 291 offers almost four times data from 2.2GB to 8GB.
Details of all other data STVs are as given in below picture.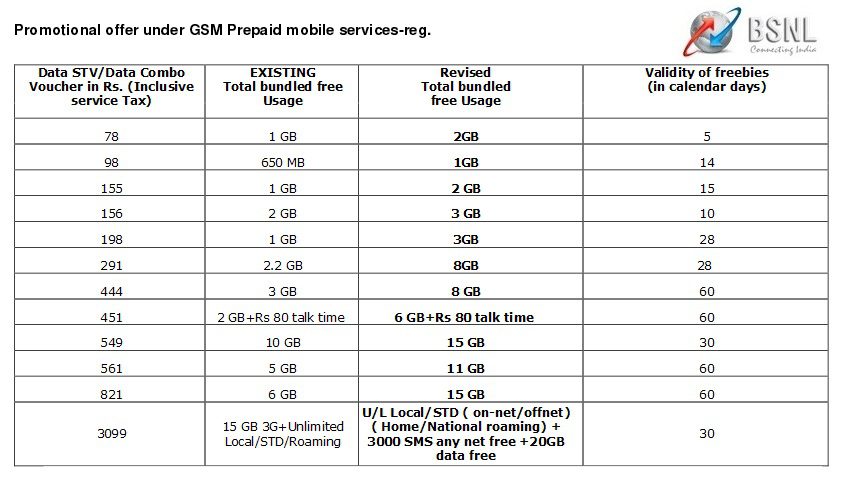 The above promotional offer will be available on PAN India basis from 6 Feb, 2017 for 90 days.
In an another announcement, BSNL have also extended following offers as given below
(A) Smartphone users, who are not using BSNL GSM Data services, will get  250 MB free Data for use on their Smart Phone (Android, Apple iOS, Blackberry OS, Windows OS, BADA and WebOS etc.) and once they will start using Data STVs should be chosen randomly and be given reward of free 1GB Data (Reward be restricted to 2% of such customer base).
(B) Free 300 MB data for new connections extended upto 28.02.2017.
http://feedproxy.google.com/~r/telecomvibe/lRsd/~3/Z98-Lx_BQLA/