Reliance Jio @ Rs 303 V/s BSNL @ Rs 249 for Unlimited data
The incumbent Reliance Jio will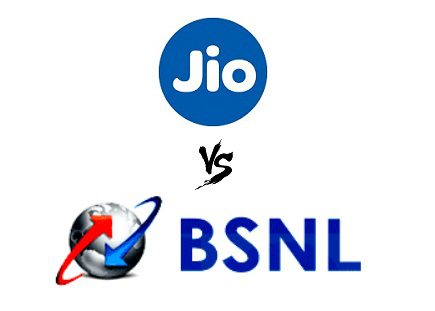 start to charge its free services with a new brand name Jio Prime at flat rate of Rs 303 per month after one time subscription by Rs 99 and their customer will get 1GB of 4G data daily.
It is perception that it is the best option offered by Jio but one small operator Telenor has also launched one more better option with RC57 which is offering unlimited 4G for 28 days, but customer forgets BSNL because the State PSU is not making effort to popularize its best plan available for its Landline customers. Due to lack of aggressive marketing,  as adopted by Incumbent, most of Indian customer don't know about BSNL's best plan of Experience Unlimited Broadband 249 plan which have following features
Landline Telephone fixed monthly charge is Nil
Monthly rental charges for Broadband= Rs 249 for first six month*
Unlimited data usage, first 1GB at 2Mbps download speed thereafter at 1Mbps
Unlimited voice calling to any network across country from 9PM to 7AM
Unlimited voice calling to any network across country full day on Sunday
This much details is enough to decide and compare between two plans, one which allows you only 1GB daily for Rs 303 while other offers Unlimited for just Rs 249. The Reliance Jio plan will be available from 1 April 2017 while BSNL's 249 plan is available up to 31 March 2017.
Before opting any plan, please see fine print of the plan.
Customers of Aircel and Vodafone may not be able to enjoy unlimited data usage for longer period but they are able to use unlimited data ( 3G/4G )on hourly basis for payment of Rs 15 and Rs 17 respectively. Check out.
http://feedproxy.google.com/~r/telecomvibe/lRsd/~3/ip8KLJNqvn8/