Jio, Airtel, Vodafone and BSNL offering competitive cheaper plans : April-2018
Jio has made Indian customers habitual of excessive data usage by offering free or cheap data plans since its entry into the telecom market. With the habit of using excessive data for social media, instant messaging apps and online videos, customers are now looking for such plans by which they continue to use excessive data at high download speeds at affordable price.
Satisfying their these desires, Indian telcos also revamps their plans to meet demands of such customers and come out with very lucrative plans. Let us see, which telco has suitable plan for such customers.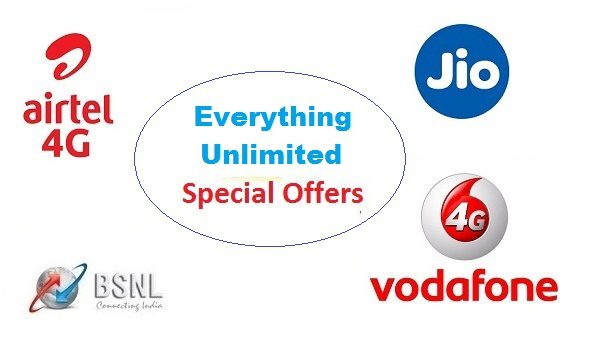 Let us start with Jio which has two plans at Rs 399 and Rs 449, both offers 1.5 GB data per day at 4G speed ( however data usage continue but at slow speed) but I will recommend plan of Rs 399 of its validity of 84 days while plan of Rs 449 comes with validity of 91 days i.e. just 7 days for an extra payment of Rs 50.
Now see the peer plans of Airtel, which is Jio's near competitor. Airtel has recharge vouchers of Rs 399 which offers 1GB per day ( lower than Jio) and validity of 70 days ( as compared to 84 days of Jio). However Airtel has almost same plan as Jio's Rs 399 but Airtel customers have to pay Rs 448 then they will be allowed 1.4GB data per day with validity of 82 days.
Vodafone too have similar plans to compete with Jio but again Vodafone's plan at Rs 458 has almost same feature as Jio's Rs 399 plan i.e. Vodafone's plan of Rs 458 offers 1.4GB data per day with validity of 84 days. Vodafone customers have to bear Rs 59 extra as compared to their friend's Jio plan.
Now let us see, what state owned PSU, BSNL offers for its customers to sustain/ remain in the telecom market. BSNL has plan at Rs 485 which offers you 1.5GB data usage at 3G speed, mind it all other operators Jio, Airtel and Vodafone offers 4G/3G but BSNL has right now 3G network only. The validity of this recharge is 90 days. As compare to Jio's plan of Rs 449, this one, plan of Rs 485 from BSNL is one of the best if you are satisfied with BSNL's 3G network performance.
So, what you got from above analysis?, share your views in comments box, just scroll down.
Just to remind you that all these telcos also offers unlimited voice calls and 100 SMS per day in their above discussed plans.
http://feedproxy.google.com/~r/telecomvibe/lRsd/~3/7jnXBb85ijc/